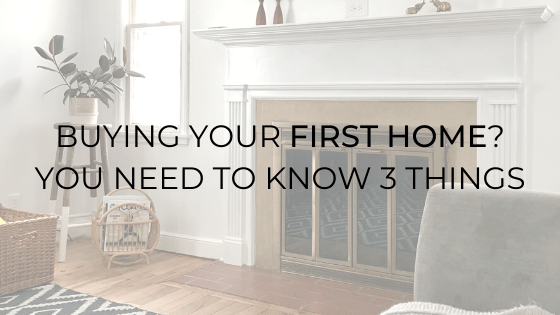 I LOVE working with first-time home buyers. Helping you find your first home, learn the home buying process, and guiding you from house-hunting to move-in day gives me the warm and fuzzies. Here are three things you should know before you start looking.
Work with one real estate agent. It's best to have one agent who is helping you with your search. Your agent will be dedicated to finding you the right property, and then negotiating on all the terms of your transaction on your behalf. You want that person to get to know you and your family's needs and preferences, rather than starting over with someone new each time you go look at a house. Keep in mind that the agent who shows you a home is, ethically, the one who should continue the transaction. Also, when you call an agent from a yard sign or advertisement, you are dealing with the seller's agent. While most real estate professionals are adept at handling both sides of a transaction professionally, it makes more sense to deal with someone you have already taken time to get to know and who has your best interests at heart as the buyer. You aren't paying your agent; unless otherwise stated, he or she is paid by the seller upon closing. Still, you are hiring someone to work for you, so feel free to interview multiple agents and pick the one that you feel fits you best.
You need to be pre-approved for financing. Unless you are paying cash for your home, you do need to talk to a lender before you start looking at houses. One reason is that it helps you set an accurate price range for house hunting. Looking at homes that you can't afford to make an offer on just leads to frustration. A mortgage lender will not only tell you what amount you can borrow, but also your projected monthly payment, your...